NYC's First Skyscraper
Title
NYC's First Skyscraper
Subject
Flatiron Building
Description
Towards the end of the 1890s, building techniques were evolving which finally allowed for skyscrapers to form throughout the New York City skyline. One of the first was the Flatiron Building which when built was the tallest building at 22 stories. One of the major innovations with the building was the use of steel in the building's construction. This not only allowed the building to grow higher, but it helped to make it more fire resistant that typical buildings of the day. With the new building process, the Flatiron Building was built much faster than typical buildings of the day. Although its design and location are a bit unusual, the building is still a major tourist attraction to this day.
Source
Library of Congress. "Flatiron Building Construction." Wikimedia. New York Times, 1901. Web. 11 Dec. 2015.
Files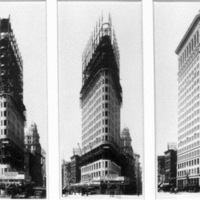 Collection
Citation
"NYC's First Skyscraper,"
Three Decades of NYC
, accessed March 20, 2023,
http://www.loyolanotredamelib.org/en203/items/show/152
.