Chaotic Streets
Description
"Above the muffled roar of conversation, the dismal wailing of babies at night, the thumping of feet in unseen corridors and rooms, mingled with the sound of varied hoarse shoutings in the street and the rattling of wheels over cobbles, they hear the scream of the child and the roars of the mother die away to a feeble moaning and a subdued bass muttering" (Crane, 11)

I believe that this image that Jacob Riis took directly correlates with this quote because it shows how the slums had a chaotic and out in the open look to it. During the time, the poor were forced to live in over-packed tenements that were huddled together extremely close to each other on the street. Due to this, the poor held little to no privacy during personal affairs allowing for the rest of the people on that street to watch people struggle in amusement. This quote and picture also give off the vibe that because the slums were so overpopulated that the noises were unending and that there was always something dark happening around the corner. Crane uses the words "babies" a lot in this quote to show the reader that this happened to any and all ages because the environment treats all the same.

Source
Riis, Jacob. Bandit's Roost. "How the Other Half Lives." 1890.Photograph.
Contributor
Adam Monticollo
Files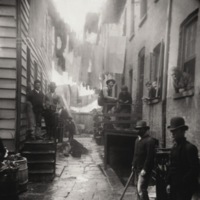 Collection
Citation
Jacob Riis, "Chaotic Streets,"
Three Decades of NYC
, accessed March 20, 2023,
http://www.loyolanotredamelib.org/en203/items/show/154
.